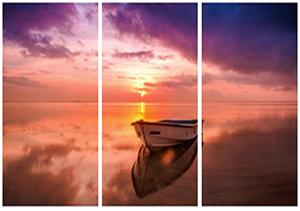 Triptych is just a fancy word for one image split into thee seperate sections. It derived from the greek adjective meaning tri or three. The multi panel canvas adds a nice ambience to your home decor! Creating large wall art with split canvas prints will impress all of your friends and guests.
What it means for us is that we can create canvas prints that have a unique quality that cannot be found in a single canvas print. Triptych's are different then canvas collages, which I will be writing about soon.
Why use a triptych?
Triptych's are a great option to fill a large space. The largest size we offer is 72" wide X 48" high.
Three panel canvases also offer a unique look and feel that tell a unique story. When you split a print into 3 panels it adds a sence of class and galley feel to your image.
Our easy to use triptych app makes it easy to order a canvas triptych.